An Apology
New job = new stress = I have been absent in the lead up to the games. Thanks for still checking the blog and sorry that there has been such a long hiatus, but I am going to try my best to cover as much of the WAG as I can.
Here is a quick summary of The E Panel's highlights from this morning's action.
First off, what's with all the pink? The USA are going to be a bit too matchy-matchy if they pull out their trademark hotpink hotmess leotards. The stadium looks like it is sponsored by Britney Spears Fantasy. Can't say I am a huge fan.
The North Greenwich Arena, looking more like the video set for "Katy Perry - California Girls" than a setting for Olympic History
Subdivision 1
First off, I want to know what this girl has been drinking. 29 years old?! It looks like the last four years didn't even happen. She is still just as bouncy and just as fun to watch. Great full twisting DLO and LOVE the two whips into double tuck. Nice job
Boczogo, HUN – vault and floor
I love watching this gymnast. Her form and physique are wonderful. Sadly she doesn't quite put it together. Particularly on vault. In the air that 1.5TY looks gorgeous but she just crumbles into the ground on the landing. Shame, but great to see such great, classic presentation from underdog countries. The same goes for.....
You can't not watch Millousi when she is performing. Her stature and head to toe presentation is so eye catching. Yes, the tumbling has to be considered weak by today's standards, but I love qualifications for this because it is like a window into the past. It is so good to see tumbles that a gymnast can comfortably compete and that look marvellous execution wise. Further, her dance and musical interpretation is very, very nice. Sad that this is probably the last we will see of her in these games.
I hadn't even heard of this girl and wasn't expecting wonders, then she shut me right up with a planted BHS into tuck full. Wonderful. The leaps on her splits were fantastic, as was the whole set. 2.5 twist dismount was great in the air, and the messy landing was really the only thing wrong with the routine. Would be fantastic to see her in the beam final.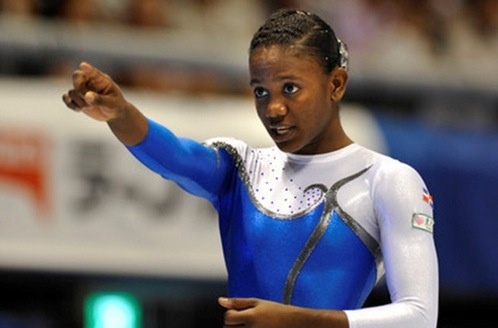 Probably the one to watch in this whole subdivision, and all eyes were definitely on Pena for one reason: the double front that has been splitting opinion for nearly a year now. Nothing sums up the difficulty/execution row more than a vault than can be sat down and still be pushing a fifteen score wise.
Unfortunately, she DID sit down the vault. BUT, I don't know if it is just me but I think it looks better in the air than it has done previously.
As pointed out by Christine Still, the problem seems to be that she absolutely sprints down the runway and throws the vault long rather than high. The distance she gets from the horse is unbelievable but she just doesn't get the air to rotate it comfortably. 14.933.
Come the second vault, things improve. This is the first I have seen of Pena's DTY and I thought it was fantastic. Execution wise the best vault she has ever produced and mechanically far more impressive than her 1.5TY ever was. This should sail her straight to the vault final, which will surely be an interesting event: if she puts the double front to her feet she will certainly medal. Even if she doesn't, with a bit of help she might get a bronze which would be a bronze with a fall in two consecutive Olympics. I wonder what the fans would think of that?
Highlight – Pena's DTY
Low Point – Hypolito's makeup. I mean seriously, what was that?
Subdivision 2
I LOVED this routine. The opening tumble was so unusual and so well performed: punch front layout full walkout through to 2.5 twist rebound stag. Presentation was fantastic and her leaps are just wonderful. Her legs seem to go on forever and she hits splits like it is the easiest thing in the world. Shame that making finals never reflects the finer touches, because this was a great routine. Don't know what was going on with the glittery hair, though.
I was mesmerised. Her tumbling is beautiful AND superbly difficult and I would argue that her double double might just be the best in the world right now. She absolutely planted it today. Her second pass, full in connected to punch tuck-back, could do with being sped up a bit but it is great to look at. Dance good. 14.900. Hopefully that will sail her into the floor final which, based on the field, might just be the best Olympic floor final of all time.
Mitchell, AUS – beam and floor
Lauren is worrying me. Apparently she is suffering with a stomach complaint and I was terrified this might affect her. I want her in beam and floor finals, desperately. Not seeing her in any finals in Beijing was a real disappointment and I do NOT want a repeat of that.
Whether or not it did affect her is debatable. Some of her elements looked better than ever, but in other areas things that are usually right on the money were well off.
Floor came first. First tumble was fine but her legs were way more cowboyed than usual on the double Arabian. Still, she landed fine and jumped out well. Her full in double pike landed messily and there was no connected leap. The rest looked good though, and I have really grown to like the composition of this routine. Although I used to bemoan her leaping out, on balance (now that every gymnast and her dog is doing it) she is quite good at it. 14.833, should be final worthy where she can step it up a bit.
Beam started well. She has managed to stop that horrible slouch before the layout series, and it looked as high and flighted as it ever has. However, she had a massive break on her FWO and missed the connection into the tuck. Further, her double pike was a complete knee eater to get her a 14.300. Only time will tell if this is good enough or not, I am keeping everything crossed.
Low Point – Mitchell wobbling and being a millimetre from falling. My heart stopped.
High Point – Ferrari on floor. She smashed it out of the park and can hopefully repeat that in the final
Can't wait for 3 and 4. COME ON BETH.