Less than one day in and this is already shaping up to be the most unpredictable Olympics in recent history.


For several years now, we have been tipping Wieber for an Olympic challenge. Yet here we are at the end of subdivision 3, and not only is Wieber not posting the highest scores, she has failed to qualify for the individual all around.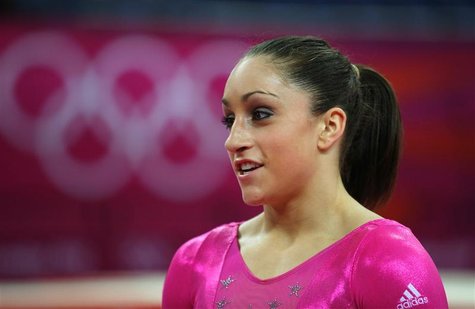 This is literally an unthinkable scenario. Sure, there have been those along the way who championed Aly, and rightly so. However, internet forums have predominantly buzzed with negativity about Raisman despite her huge talents, mainly on the grounds of her execution. Two weeks ago, the idea that at an international level, Aly Raisman would be the number one American over Gabby Douglas and Jordyn Wieber would have been pure farce.
It is hard to imagine how Jordyn Wieber must feel. With no AA competition on the horizon, and the potential for no finals, in the blink of an eye Jordyn Wieber has gone from Shannon Miller to Amanda Borden. Who knows how she will react to this swift change in team politics? To be undermined so shockingly and at such a high level must be very mentally stressful, and if I were John Geddert, I would be wondering how it is possible to get Wieber back in the mindset for the all important team finals.
It has been such a long time since gymnasts were fighting so vehemently and closely for AA spots, especially amongst American competitors. This situation is so evocative of the Unified Team in 1992 it is barely believable. What is Marta thinking? Does this mean that Raisman is an AA threat? The international scoring of her floor routine (15.325!), her wildly improved Amanar and her renowned beam consistency certainly suggest so. The big question is, can she stay on bars in an AA situation?
A million questions, and as yet no answers. What is certain, though, is that Raisman has gone out and proved a hell of a lot of people wrong (me included). If she stays on bars in the AA, could she make a podium?
In Gabby Douglas news, she did not have the best of days but did well enough to qualify. If she puts it all together in competition, she might also be one of the top tips for the AA crown.
As sad as the situation is, I think we should all be grateful for the huge depth of talent we are being treated to. Noone should ever criticize Aly Raisman for this: after all, all fans have ever begged of her is that she clean up and refine her gymnastics. She has done that, and this is the result. However, this is surely further evidence against the two up two count rule. The day a 60+ qualification score is not good enough for AA is a day where the Olympic Games cannot be considered a fair representation of international talent.
TEAM VIEW
Whatever the USA are doing, they are doing it right. Today was an insane display of talent and expertise. Today must have been amongst the most impressive outings on vault in any WAG competition of all time. All of those Amanars are looking good, and some of them marvellously improved. Raisman's for instance, is looking so much better. At this point they are the runaway favourites, but obviously we have to see Romania to be sure (watch this space..).
However, as mentioned, it seems ridiculous that team depth and success must come at expense of individual success. Raisman, Douglas and Wieber are unarguably three of the best gymnasts in the whole right now. The idea that they should have to fight for three spaces is artificial, unfair and basically indefensible.