Hard to imagine that it is all over. You wish for something for four years and when it arrives, it flies by like a freight train. The individual event finals of London 2012 were ridiculously unexpected for me (Deng Linlin beam champion?! - NEVER would I have predicted that). after a bit of settling time I thought I would consolidate my main thoughts after the individual competitions.
What The E Panel will remember fondly
Gabrielle Douglas - 2012 AA Champion
Already the issue of Gabs vs Vika has been hotly debated, and it is likely to be bitched about/staunchly defended for the next 4 years. It is impossible to discuss this without bringing in personal opinion and whilst I usually try to avoid extended chunks of personal rambling I will indulge myself a little here.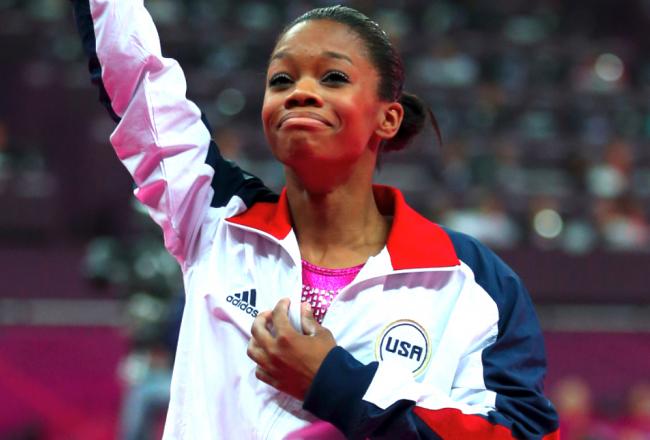 I love Gabby's gymnastics. I think he has great form, lovely amplitude and a zesty quality to the skills she performs that few others managed. My real clicking moment with Douglas came at the 2012 American cup on her final skill: the split leap out of the double tuck which was the highest and most exciting I had, and have, seen.
I love Komova's gymnastics too, and have done for a much longer period. I first saw Komova on some grainy youtube videos three years ago and was instantly mesmerized by her unusual and fantastic ability to combine difficulty with supreme execution. When asked in 2009 to predict the 2012 AA champion, I instantly tipped Viktoria Komova for the win.
Both Komova and Gabby suffered with the same problem: they had fantastic skills but seemed to suffer terribly with stage fright and often failed to perform when it mattered most. Both still have this in spades: Douglas is now the only AA champion not to possess any individual apparatus final medals due to edgy performances in both beam and bars finals. Komova fell afoul of the same curse.
The difference is that Gabby had a brilliant day when it counted. Komova didn't. Although some of her performances were peppered with brilliance (her floor routine was the best of her life, and the best of the AA competition, making me wish she had made the EF) she was generally inconsistent and didn't meet her potential on three of four events. Gabby on the other hand, although admittedly not floorless either, WAS the better gymnast that day (at least I think so) and that is why she won.
To sum up my general feeling, had Komova won, it would be a gold medal for the memory of her from 2 years ago. But the gold medal for Douglas was a recognition of the gymnast we see today.
Aliya Mustafina - 2012 UB Champion
Russia's first WAG gold medal since Zamolodchikova and Queen Khorkina in Sydney 2000, and wasn't Musty evocative of Khorki on their shared signature event?
Although patriotism tied me into routine for gold elsewhere, if I am honest I have loved Mustafina's bars work ever since the 2010 worlds, which might as well be renamed the Aliya Mustafina welcome party. I love her execution and power, but more than this her originality. I never fail to be bowled over by her 1.5 twisting double tuck, not to mention her uncanny ability to nail it cold everytime.
There was a scary few moments when I thought my He Kexin prophecy may actually come true (I still reserve the right to be a little bit smug for calling it given she got silver in the end). Not that I dislike He Kexin, her bar work is undeniably impressive. But a win for Kexin would show an unfair lack of recognition of the developments bars has undergone in the last four years: changing from a three minute pirouette slog into an exciting connection and release led "Russian/Tweddle" style romp.
Aly Raisman - 2012 FX Champion
OK, so I haven't always been Aly's biggest fan. Plenty of people haven't been. However, for me Aly has been the most impressive gymnast of these games. The time has come to stop bemoaning toe point and artistry and recognize the positives: that Raisman should be recognized as one of the top USA team players of all time.
Sure, her floor isn't my favourite to watch. However, that opening pass is so original, so risky and so brilliant that it is hard to argue with the verdict. Indeed, one of the best things about Raisman (and something that people rarely celebrate) is that she does NOT attempt skills that she can't do...
Despite any complaints about presentation, Aly is no chucker and her floor composition is testament to this. Her leaps are all complete, her tumbles speak for themselves and my favourite thing is her spin - ridiculously simple, but she can do it.
My main thought is that I wanted her to leave these games with an individual medal. I would have preferred it to be AA bronze, but I love that she won here, although admittedly this is not just based on an impartial view of the routines themselves.
Beth Tweddle gets her first Olympic medal on her final day of Olympic competition
I won't do my usual Tweddle gush. It is clear what I think about her and her routine. I am just thrilled she managed to pull it off and intensely relieved that she moved up a place from Beijing.
Things The E Panel would rather forget
OUCH. It began with a crash and ended with open mouthed shock. This vault final was a perfect example of how nothing can be predicted at the Olympic level.
I cannot even imagine how Maroney must feel. The one time she crashes a vault in competitive memory and it comes in the event finals of her signature apparatus. This is a great shame, as everyone is in agreement that Maroney is undeniably the best vaulter in the world. However, as always, it is not enough to be able to do the vault well: it has to be done well on the night, and this wasn't. Really, she should be happy to have gotten a silver with a fall.
On an impartial level, sweeping aside any bias towards Maroney, this final does little for vault as an event. Two Olympics in a row, and both since the introduction of the open ended code, have seen crashed vaults make the podium. It isn't really the direction we should be moving in, and I think harsher penalties for falls are needed.
There is a potential silver lining however: This failure may stimulate Maroney to continue competing. I would love for this to happen.
Falling at the final hurdle on a routine that should certainly have been medal worthy is not how I wanted Sandra to end her second Olympics. I guess the unexpected vault gold should take the sting out of this somewhat, but it took the pop out of a final which I had been looking forward to for a year.
So she got the bronze, and for that I am grateful. However, I wanted gold for Beth, or failing that at least the silver. Mainly, I wanted her to beat He Kexin, and she couldn't.
The reason was the dismount. Again. Two Olympics and two giant steps from a double tuck variation. I am unbelieveably glad it didn't knock her down into fourth - the last few routines of that final had my heart racing at dangerous levels.
...A full article to follow