The curse of the birthday is one of those saddening and unavoidably frustrating aspects of a gymnast's life, and often accompanies our saddest gymnastics tales. Through no fault of their own, gymnasts are forced to peak at a far later time than they would if age were no concern. Of course, we hear success stories now and again. Nastia Liukin is one of those bright child stars who would surely have made the 2004 Olympic team had she been a whisker older to make the age cutoff, and she went on to take the AA title in Beijing. Despite these heartwarming tales there are those for whom an extra four years is a stretch too far - Vanessa Atler being a prominent example.
It is with an impending sense of foreboding that the time has come to acknowledge a nagging doubt that I have been suppressing to the back of my head for the last few weeks. With 16 weeks to go until the US Olympic trials, does Rebecca Bross have enough time?
Ask anyone in 2009/2010, Bross was a lock for team USA in London. She had some fantastic aspects to her gymnastics that were fantastic not only in an AA situation, but invaluable for a team too. Unlike many USA gymnasts, Rebecca was great on floor, beam AND bars. With fantastic execution and power on the latter and the potential for more upgrades, things were set to get bigger and better with time.
It wasn't as if she started badly either. She was the talk of 2009 in the USA and would have strolled her way to a national title. Mistakes, however, meant Rebecca handed the title to Olympic veteran Bridget Sloan (not to put down Bridget, I really like her work, but Rebecca is a better gymnast or was in 2009 at least).
Already you can tell I like Rebecca. I just do. I like the look of all her work and how she ATTACKS all four pieces - there is a real fighting spirit and aggression in her work that you see in few other places. For me, this makes up for her lack of "artistry", which I know gets some people down (and I see why). But Rebecca is that type of gymnast who even if the videos were pixellated you would still know it was her, and I think that kind of individuality is fantastic.
But this goes beyond simply liking someone: everyone has their favourites. Rebecca is one of those gymnasts who has had such an INCONVENIENT career (not Memmel inconvienient, but not far off), that I think it's hard not to root for her.
A whistle stop tour of a less than ideal senior career
First senior year. General expectation to be the national champion in a podium completed by Bridget Sloan and Ivana Hong. Mistakes put her in third behind these two, more experienced competitors.
Worlds: Qualifies first into the All Around(despite a botched beam dismount) ahead of Porgras, Mitchell, Linlin and Sloan. One of only two all arounders to qualify with an apparatus score in the 15s (on bars). Hits first three apparatus in AA finals (receiving a beam score that would have been golden in the EF). Entered floor needing only a 12.925 for the title, but fell at the very last hurdle on her 2.5 twist to layout half. Just missed the required mark and for a second time handed a title to Bridget Sloan.
Started the season strongly by winning her first American Cup. Then went on to convincingly win the national title. Headed into worlds as a competitor for the title, with the competition painted as a Russian/American rivalry between herself and newly eligible Russian superstar Aliya Mustafina. Qualified in second behind Mustafina, despite a disappointing floor outing. In the finals, Rebecca started well but fell from the beam, losing her chance to become the world champion yet again. However in the last rotation she harnessed her trademark fighting spirit and came back with the best floor routine of her life to get a 15.233 - a score which remains the highest on the apparatus in this quad so far.
Sat out most of the season due to injury, and didn't compete competitive gymnastics until the Visa Championships in June. Looking tired and unable to compete the skills she had been hitting for years, fans were immediately concerned for her safety and message boards were full of talk about her health. After falling from the beam on both days, sitting down her beam dismount both days and falling from the bars on a tkatchev, Rebecca fell afoul of the dreaded knee injury, a super-low DTY dislocating her kneecap and rendering her incapable of competing again in the 2011 season.
We first got a hint of how Becca was doing at the WOGA classic early in the year. Only competing bars and beam, Becca was looking a little better. Most of the skills were looking good, but she was unable to put her Patterson dismount to her feet. On bars, the old skills were done well enough and an upgrade shaposhnikova half gave a hint of significant improvement, but Becca fell on this new element. In Jesolo, Becca landed the Patterson for the first time in a competition since the 2010 World's Event Finals. She still failed to stay on the bars however.
Low dismount, but stuck like she never has
So where are we now? Well with no sight of any vault or floor for a year, no hit bars and a dismount that has been landed once in competition, no one can pretend that things are looking good for Rebecca. But there is still hope. Despite the falls (which were probably just flukes - I am sure she is more than capable of that bar transfer) Becca's bars look very crisp. With a bit more work, beam could be back to a good standard, and if she has floor then she is still in the enviable position of offering three team final worthy events that include a good bars set (people seem to forget how simply superb Becca is on floor - she KILLS it). Few others (really only Kyla Ross at this point) can say that.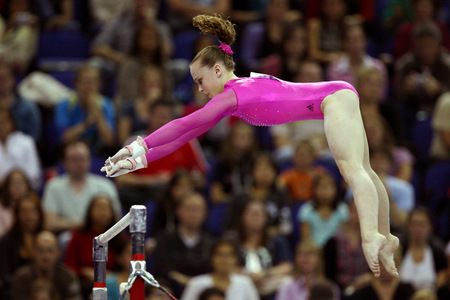 Although most of this is a self indulgent whine about the misfortune of one of my favourite athletes, I think this is pretty undeniable: Becca is a great gymnast, one of the stars of this quad, and due to difficult circumstances is now under a huge amount of pressure from all angles. With the WOGA threepeat legacy placed upon her shoulders years ago, rumours of rising tension between her and her coach, and the prospect of fighting for a spot on the Olympic team with little recent international experience, VISAs and trials will be touch and go times for Bross.
I keep my fingers crossed that she can still fight her way to something fantastic on beam, floor and bars. She really deserves it both as a great gymnast and as a person who has had a really hard few years.
Rebecca Bross for London!
(but as an edit, I have to add that whether she does or not, it won't make her any less of a star in my eyes)
EDIT 15/05/2012 Bross is no longer going for the All Around
An article posted today on the Dallas news website confirms that Rebecca Bross will from now on "focus on the balance beam and uneven bars" -
http://www.dallasnews.com/sports/more-sports/olympics/20120515-gruesome-injury-costs-dallas-gymnast-rebecca-bross-a-shot-at-all-around-glory-but-not-olympic-gold.ece
The full meaning of this is unclear as yet - "focusing" on bars and beam does not necessarily mean that floor is completely out of the question, however, it seems obvious that vault will not be a priority. The time required to get a good DTY that would never be used in a team situation seems pointless given the ticking clock and the remaining work to be done where Bross can actually be used.
Although it is very sad to think what could have been, I think this is generally positive. The pressure of the threepeat is now officially lifted and Becca can plough all her energy into perfecting her routines where they are needed: primarily the uneven bars. Of course, this does mean that the competition between Bross and Liukin is 100% head to head: with a five person team only one of these WOGA girls will make it to London.
We eagerly await Classics to get a better indication of who....
Pictures: http://nimg.sulekha.com/sports/original700/rebecca-bross-2009-10-16-17-10-3.jpg, screencap from http://www.youtube.com/watch?v=-UqXmwiK_ps, http://s4.assets.usoc.org/assets/images/article/photo/39181/full/105992158.jpg, http://cdn.rickey.org/wp-content/uploads/2011/08/Rebecca-Bross-Injury.jpg, http://cdn.bleacherreport.net/images_root/galleries/197/197989/crop_450x500_GYI0058655058.jpg