Are all gold medals equal?
"

What's in a name? that which we call a rose



By any other name would smell as sweet"
...said Juliet, on the importance of names, in one of Shakespeare's more famous works. The point is clear: name is name only, and doesn't affect the properties of that which is gives title to.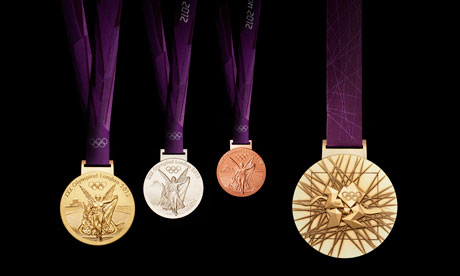 To move away from this pretentious opener and towards something more on-topic, I had been wondering recently about podiums of all kinds in gymnastics, and the feelings of the competitors upon them who leave with the medals.
Why did I think this? I had just finished watching the 1992 Barcelona event finals (for perhaps the one hundredth time), and was specifically thinking about the beam final and one of my all time favourites, Svetlana Boginskaya. After a balance break in her EF beam exercise, a slim hope became a fools hope, and it was quickly clear that Bogi would leave her second Olympic games with no individual medals for her cabinet. This was summed up by Barry Davies: "and Svetlana Boginskaya, down in fifth place, will leave these Olympic games without an individual medal, only the gold medal from the team competition".
Sure, she had an Olympic gold medal: more than most ever achieve. But would she be happy with this? Is a gold medal a gold medal, regardless of its name? As with many things, people tend to have a subconscious naivety that others think the same as them: I realised I had never thought to ask how much stock other spectators hold in different competitions, and never speculated on what the gymnasts themselves think.
If I was to personally rank the 3 gold medal opportunities (i.e. the three competitions taking place in world and Olympic competition) it would be in the following order of preference: 1.EF 2.AA 3.TF
Why?
To me, gymnastics is first and foremost an individual sport. It is about how what gymnasts can do alone, how they perfect the skills and the personal touches they bring to their routines. It took me quite a long time to fully understand the excitement of the team competition: it was hard to get past the idea that it is just a series of individual routines falsely added together. Hence I still find it difficult to consider gymnastics as a sport of team importance because it always comes back to the individual (although this has changed increasingly with time - I have begun to appreciate the team tactics and the excitement of the team competition)
I like the AA a lot, but sometimes struggle with the idea that the winner is the best gymnast in the world, because it is consistency that always wins. I find that often the All Around champions are event specialists with boring but consistent routines on their weakest apparatus (I have discussed this opinion in more detail before, see:

http://theepanel.blogspot.co.uk/2011/11/requiem-for-real-all-arounders.html ). But I appreciate the grit and determination of the individual fight, and in days gone by the AA was my standout favourite (back in a time where an AA crown took more than a mammoth bar routine and simple survival elsewhere, or something to the same effect)
For me, the best of the sport comes through in good event finals. We see top difficulty, top execution (not for vault, it must be said) and only the very best routines. Falls and mistakes take gymnasts out of the running in an instant, and there is the greatest potential for surprises, close battles and underdog victories.
Poll
I was shocked to find that the overwhelming majority of fans prefer the Team Final, followed by the All Around, with Event Finals in last place. Although this is not my own personal preference, I can see why people enjoy this. Some of the best moments in the history of the sport have come from Team Finals, and in a way this has softened me to Team Finals even more.
Looking to London
Perhaps bloggers say this before every Olympics, but I genuinely believe we are to be treated to one of the most exciting Olympics of All time. This is why, by competition....
TF -
The USA have never seemed stronger, and their depth is now intimidating. As mentioned in several previous posts, the USA now has more confirmed Amanar's than the rest of the world put together, and by a serious margin. This goes some way to illustrate their perceived dominance right now. However, this is not going to be a one horse race, and if they want to be the runway favourites to be the MAG5 they will have to seriously hope that Nastia and Becca can pull something fantastic out on bars. Why? Because the Russians certainly will. Besides this, the Russians did not have a single Amanar in Tokyo, nor did they have Grishina or Mustafina. With a few more higher scoring vaults and some great bars, that gap might be a whole lot smaller.
AA
- The last time there were this many AA contenders, it was twelve years ago and everyone was gearing up for Sydney. As if symbolically, due to the mess that ensued, the Olympic AA competition has been paltry by comparison to 2000 ever since. But for the first time since, there is going to be competition for the top spot between more than two athletes. Sure, in Athens and Beijing there were others who could have contended, but it would have taken a fall from the top two in each case for this to happen. It is literally impossible to predict the top 3 AAers at this point, which is a different story to the last two Olympic Games.
EF
- Sadly, EFs may take a hit a little at this Olympics. With tiny teams, specialists have a harder time and so we may see fewer athletes being brought for one routine for the team and one routine for EF. Some fields are looking depleted too: on vault, for instance, the probable lineup is really quite similar to Beijing. Furthermore, unless Pena cleans up that double front and takes the gold (which I think is not only improbable but would be bad for the sport - sounds mean, but that vault is scary) it may be the first time in modern gymnastics history where the OG gold medallist on vault wins with the same or less difficult two vaults as the previous OG winner (Maroney is the favourite if she makes the games, which is a huge if, and she is training a Mustafina and an Amanar). The bars field is weaker than Beijing and will most probably be a battle between the Russians and Tweddle.
To conclude, it is interesting to hear how much stock the average gymnastics fan holds in the team competition. In a way, the TF is more relevant than ever: with such a tiny team it is clear that national coordinators will be putting the team first, followed by the AA and then the EF as an afterthought. It is unlikely that anyone will make it on the basis of one event.
Looks like a gold medal isn't always a gold medal after all...