Two days ago, in the heart of Stuttgart, the unthinkable happened: Huang Qiushang went 4 for 4. This was a moment so unexpected and memorable that it will likely take off as an urban phenomenon ("where were you when Huang hit 4?" - that kind of thing).
OK so this is unlikely. But to the people that know, this was actually quite a nice surprise. But with the good came the frustration: why could she never do this before? And even worse: is it already too late for her?
For those that may not yet have seen the footage from the DTB cup this weekend, see the videos below. Do not be taken in too much by my hyperbolas introduction: her floor was very watered down and this field was basically nonexistent. It was even a field at all. It was a lawn. An un-watered lawn (and all thanks to these ridiculous new world cup rules sucking all the life and intrigue out of these world cup events).
Vault: Decent DTY (incidentally I don't believe the amanar rumours)
UB: Nice as always
Beam: For once a performance that doesn't make you hold your breath for dangerous periods of time
Floor: Nothing to write home about tumbling wise and a big OOB, but nice choreo
But hit she did. A total of 58.032 was miles away from the rest of the field, head and shoulders above silver medallist Kim Bui. Her bars, as usual, were lovely. I am a big fan of her on this event and think that the Chinese athletes were hit way too hard by the judges at worlds. But that's another story. Her beam was refreshingly solid.
Success is always great to see, but failure to succeed when it matters unfortunately tips the scales. In situations like Huang's it is hard not to wonder what might have been.
In the years running up to an Olympics, as pressure builds and challengers gradually emerge from the woodwork, it is important for the less hyped athletes to hit to their greatest potential and take advantage of the competition. Looks at Jiang Yuyuan. She probably won't factor in at all in 2012, but she can say for her whole life that she had a great day when it counted and will forever have been the second best in the world. Same goes for Koko Tsurumi (third best) and countless others in the history of the sport.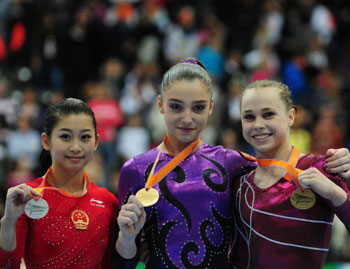 Making the most of AA opportunities: Jiang Yuyuan
Huang has shown that she can put up a decent AA challenge. But will she have the opportunity again? The ever competitive second AA spot is like a medal itself in countries with a deep field and chances don't often stick around for long.
It is with regret that Alexandra Raisman must be drawn in at this point. Two years as second in command to two different AA big-dogs, and twice a car crash on the bars. I am a big fan of her powerful tumbling and magnetic feet on beam and vault, but with the potential of a healthy Bross and Johnson next year (not to mention the new seniors), will she ever be number 2 again?
(On an unrelated note, nice to see Kim Bui in second, but a shame that she no longer uses that 1.5 twisting jump on beam. It was a really unusual skill and I really liked it).