Given how nail-bitingly close this years worlds AA final was, I got to thinking about mistakes. Mis-steps. Falls. Form breaks. Chance events that happen in a split second that change the course of a competition and the life of a gymnast forever.
These occurrences are hard to watch, insanely frustrating, but sadly an integral part of the sport. They happen all the time. But some become so notorious that they take on a life of their own.
So I decided to narrow it down to Olympic games from 92 onwards, limit it to 5, include only individual competitions and rank what are, to me, the most heartbreaking WAG mistakes.
1.
Svetlana Khorkina –
2000 AA UB
Yes, she divides opinion. And yes, the moments of her first vault in the 2000 AA have been discussed to death. But the incorrect measuring of the vault in Sydney really was one of the biggest embarrassments in sporting history, both in terms of the initial error but also in terms of the handling of the situation (the competition should have been stopped dead and restarted another day).
But the error I consider here is not Khorkina's vault, it is her bars. Falling from the high bar on her Ricna recatch really was a tragic moment. Such a huge error on her signature apparatus seemed to spell out her feelings of defeat.
Had she held on and scored the same as she did in the event finals, she would still have won the gold even despite the fall on vault. She would have been the deserving winner and perhaps would not have felt the need to carry on until 2004 (sparing us all the uneasy viewing of her emaciated figure and judging bias).
2.
Tatiana Lysenko –
1992 AA FX
"She could have won it all, and rightfully so"
This top comment on the youtube video of Tatiana Lysenko's floor exercise at the 1992 Barcelona Olympics sums it all up for me. Lysenko was the star of these games in my opinion, and if she had gone through cleanly I think she would have deserved the gold. Everything about her gymnastics is amazing, original, and not only cleanly performed but performed in such a way that you can instantly tell that it is her (her hurdles before her roundoff being a brilliant example).
But she didn't go through cleanly. Although she got good scores on vault (performing a DTY consistently and beautifully - brilliant for her time) and bars, she had problems on beam and this major mistake on the floor. Landing her double layout short and OOB, she took herself out of contention. This is even more of a shame considering the routine she was performing: it was difficult, beautifully choreographed and set to what I consider to be my favourite floor music of all time.
Luckily she redeemed herself in EFs, but her falling out of the AA was a heartbreaking moment.
The most decorated female gymnast in Chinese history, Cheng Fei, is the kind of athlete you can't help but love. Why? Because she broke a mould so spectacularly. We are so used to miniscule, delicate and graceful Chinese WAG gymnasts. We see time and time again these girls who can kill a beam set with such beauty, who can pack in a bucket load of pencil straight endo pirouettes; but who can't do a bar transfer without a muscled kip, can't tumble and can barely get a DTY around without landing chest to knee. There was always an air of suggestion, that is a Chinese gymnast could be POWERFUL, she would have it all.
Fei didn't have it all (she couldn't do bars). But she had pretty much everything else. She was robbed in the floor finals at the 2004 Olympics, but pretty much dominated floor and vault from the start of the code change onwards. They really were hers to lose in Beijjing, and especially after a fall from the beam in the TF, I was really rooting for her to win double gold and be the first since Zamo to do it.
Sadly, she messed up both. I can't quite decide which was the more heartbreaking of the two, but I would perhaps say floor because at least she rescued a (somewhat undeserving given Sacramone's E scores) bronze on vault. An underrotated full twisting front layout caused her to sit down and fall straight out of the medals: not her most difficult pass and further, had she compromised her layout form she probably wouldn't have fallen.
Both were heartbreaking because she was, in my opinion, the deserving gold medallist on both disciplines. Instead she had to settle for two undeserved bronze medals.
4.
Elena Zamolodchikova –
2000 AA FX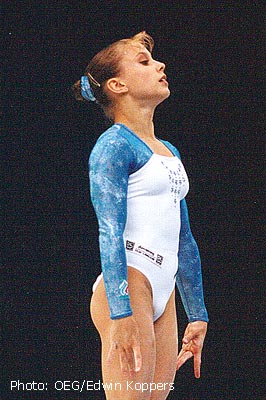 The 2000 AA was a travesty for reasons we all know. What should rightfully have been a Russian medal sweep became a Romanian medal sweep due to the unfortunate errors of the former. I cannot even bring myself to watch Elena begin her third pass, ironically her easiest, of her floor routine in the third rotation of the All Around competition. With Khorkina out of the running, it was hers for the taking, but she fell and all was lost.
Similar to the Lysenko story, she redeemed herself valiantly in the EFs becoming a double gold medallist (ironically one of these was the floor exercise – a gold medal in the same discipline that robbed her of a sure win).
5.
Beth Tweddle –
2008 EF UB
In 2008 a BRITISH GYMNAST arrived in Beijjing with the hardest uneven bars routine in the world. A decade previously a fan of the sport would have laughed at this statement. Beth changed everything. She has singlehandedly raised the profile of the sport in my country and is very arguably solely responsible for the improvement in the British programme in recent years.
That routine was stunningly good, and it seems unlikely we will see something quite so jam packed again given the changes in the code to include fewer elements (which I agree with incidentally). For the quality of her releases, her progression as a mature gymnast and the reasons listed above, I wanted her so badly to rescue a medal from the bars final. Not the gold (that should have been Nastia's), but a medal nonetheless.
A medal would have been hers, were it not for a disastrously late toe on full before her dismount. I can't even imagine her frustration at missing a medal by 0.025 of a point. I am so rooting for a repeat of her TF UB at next year's finals.