TEAM - ROMANIA RETURNS
The team final, being regarded by many as the big return of Romania, saw the de-throning of the reigning team champions Russia to Romania's heady mix of the old and the new. Romania really did put in a brilliant performance, stunningly solid as usual but also creative and interesting to watch in a manner that is not always the case for the Deva girls.
For me, this team centres on Ponor, whose statuesque presence draws instant attention from spectators. Catalina has always been thrilling to watch: her feline features are matched by a catlike ability for solidity on the balance beam. Her new routine looks comfortable and rock hard, and is the closest she has looked to her 2004 self since her golden heyday. I could never fail to be blown away by her signature combination: onodi to backhandspring to layout. After spending years bemoaning tedious beam flight "combinations", this is not so much a breath of fresh air but a full-on oxygen mask: an unusual, original flight combination on beam that is actually connected. Further, Ponor's ability to upgrade does not disappoint. Not only has the architecture of the routine changed but there are some fresh skills: a switch ring, which isn't half bad, and a beautiful double turn.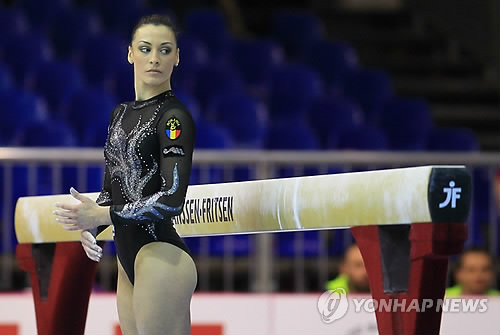 Rightfully, this fantastic beam set went on to win her gold in the event final. I could gush all day about Ponor. For me, she is the real queen of the comebacks. Not once has she ever looked tired, overstretched or even, really, physically challenged in any way. Her poise, apparent tongue-in-cheek attitude and perfectly balanced physique (not too muscled, not underfed) makes her one of the most watchable current competitors. I would love to see her break some records with some Olympic medals later this year.
Similar leotard to Athens. And really, not much has changed has it? Incredible.
Romania's winning happened, mainly, on the floor. For two reasons: they were fantastic, and Russia were not. Mother Russia didn't qualify a single gymnast to floor finals due to a slew of errors in qualifying, and although thing improved in finals it was nowhere near enough to touch Romania whose lowest floor score was still better than Russia's highest. All three of their athletes were fantastic. Ponor seems to have recovered from her terrible copter-leg syndrome and things are looking much cleaner. Iordache, on the other hand, not only performed well but made a good case to be a top contender for floor gold in London, convincingly taking the top spot by matching Rebecca Bross's quad-high score of 15.233.
GREAT Sticks on the double double and whip triple, and nice leaps too
Romania ended the weekend with the team gold, and three of the four event final golds. This fantastic sweep really does go some way to silence those who say Romania has no shot at a medal in London. There have also been twitter rumours that some of the girls have amanars, but were not performing them to avoid injury: a tactic which must have a tinge of sadness when viewed by Mustafina.
What this means for the team final later this year is unclear. Yes, Romania won and by quite a margin, but Russia did not exactly have a good day. However, both teams had their major stars present and competing. Suddenly the idea of an Olympic team medal for Romania does not seem so farfetched. Could they even challenge for the silver?
SANDRA DEFENDS
Sandra Izbasa successfully defended her vault title, and I have to say I am really happy she did. Although I am rooting for Chuso, and have been a big fan of hers for many years, I do think that for some reasons she gets off very lightly in terms of execution criticism from fans. Her rudi has really deteriorated, although her Tsuk 1.5 is a really lovely vault.
Sandra, on the other hand, had some fantastic execution AND an impressive upgrade. Finally we have seen what a Mustafina (RO half on 1/1 LO) SHOULD look like. It was by no means perfect, and she did start to bend at the knees about half way into the 1.5 somersault, but it is an impressive upgrade nonetheless and a good looking vault (a world away from the attempts we have seen of it so far, but seeing Maroney's version in the coming months should be a real treat if the rumours are true).
Good form, good vaults and a great gymnast.
MUSTAFINA - CHALLENGE OVER?
Mustafina's return to health has been eagerly anticipated since moments after her injury at this very competition a year ago. Aliya has made an impressive recovery and is putting together some fantastic gymnastics, particularly on the bars where her Team Final routine scored a competition high of 15.833 - a score which sets her up as a serious challenge or the Olympic podium.
Throughout her absence Aliya has remained within people's prediction list for the OG AA podium. Speculative and potentially pessimistic as it is, with the games looming questions HAVE to be asked as to whether this is possible based on what we are seeing. Floor has clearly been difficult to get back: although her opening pass of double Arabian to stag is beautiful, there are clearly some fundamental twisting problems. It is as if Ponor infected Mustafina with her copter-leg syndrome only to recover herself. Aliya has a long way to go, though, if she wants to avoid the hefty deductions that this car crash execution will be levying - even on her DTY her legs are all over the place showing this is clearly not an issue of difficulty but of technique.
Perhaps if something big can happen in the next few weeks, she will have a shot. However, I think Aliya's only legitimate shot at gold based on current evidence is on the bars. I think, perhaps, that we are unknowingly in a 1992 situation: we have all anticipated (or most of us, anyway) the wrong showdown. It seems unlikely to involve Mustafina at the very top. It may even, dare I say, be difficult for Komova to make a legitimate case for the very top. Based on this weekend's performances though it is clear that Iordache has a better chance than first thought.
GREAT FLOOR FROM UNDERDOG GYMNASTS
One pleasant surprise that has surfaced in the winter of this quad is the unexpected depth and quality of floor exercise, with the Tokyo floor EF being deeper and more exciting than several Olympic finals on the same event.
This weekend some floor highlights for me came from unexpected places. Julie Croket, of Belgium, made the final at worlds and her routine is still super impressive. I love her choreography and, as always, I am a complete sucker for a front double so she is right up my street.
Rebecca Tunney, sadly, has been more famous recently for her screw ups at the American Cup than for anything positive about her gymnastics. But this weekend was a different story. Her floor routine was mature, well structured and at times rather beautiful.
Livchikova, who has developed something of a cult following for her artistry and presentation, is back from injury and did not disappoint. Sadly the comparative lack of difficulty keeps her away from the top.
HANNAH WHELAN
A week ago, there was a general feeling that Euros would be individually uneventful for us Brits, with Beth Tweddle out. However Hannah Whelan, who has been a great force in British gymnastics for many a year now, performed over and above expectation. Scooping a bronze in the beam final (which, admittedly, was open to anyone who didn't fall - but then again hitting at the right time is the name of the game) meant a first on the apparatus for GBR. She followed this, more convincingly, with a bronze medal on the floor exercise with a clean and artistically innovative routine.
There was no All Around competition at this championships, but taking results from the "unofficial AA" (individual totals during the teak competition), Hannah finished third here as well. This is an astounding achievement for a British gymnast at the last Euros before an Olympic Games.
I really enjoyed the vault final, and particularly the variety of vaults we saw. A definite highlight for me was Fasana of Italy and her second vault: a front layout one and a half somersault. This vault reminds me so much of the 1997-2000 quad and during this time it was considered as a worthy vault by the code. Sadly this is not the case anymore and under the current system is only worth a 5.0.
It was really interesting to see, and I think it is a very,very good looking vault, and probably more difficult than the code indicates. Mitch Fenner seemed to agree.
Only a small point, but it seemed a real shame that this interesting vault, well performed and executed, would not be able to make any splash on its own. Christine Still remarked something about how she should perfect it and then move to add twists. Sad, that a good vault can be considered only as a starting point rather than a successful performance in its own right.
VT: 1. Izbasa 2. Chusovitina 3. Steingruber
UB: 1.Komova 2. Grishina 2. Kononenko (still loving the tkatchev half to jaeger)
BB: 1. Ponor 2. Iordache 3. Whelan
FX: 1. Iordache 2. Ponor 3. Whelan
Great competition!